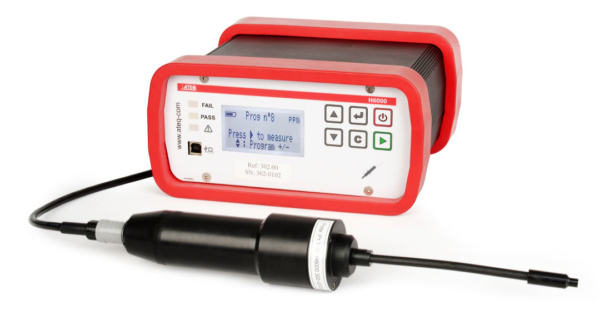 H6000 – HYDROGEN PORTABLE LEAK TESTER FOR FINE LEAK DETECTION
The H6000, a new comer in the ATEQ range of leak detectors, is one of the finest gas tracer and hydrogen leak detectors on the market today. This gas is less expensive than Helium gas.
Furthermore, it's a volatile, non-toxic and non-poisonous gas with any environmental impact. The H6000 is equipped with all features for easy integration in industrial process and laboratory one.
• Automotive: leak localization, cooling systems, alloy wheel, …
• HVAC, Refrigeration and Automotive Leak Detection
• Domestic Appliances: compressor, …
• Generated Suction Flow control
• Internal memory: 2 Go
• Visual (red/green leds) and audible signal for results
• USB port
• Bag for H6000
• H6000 fixed
– Voltage 60 W – 50/60 Hz – 90/260 V AC
– Relay board 5 inputs/ 7 outputs
• H6000 portable (autonomy 8 hour) lithium battery
– 12 VDC – 4400 mA/h
– Easy removable battery pack
– Supplied with 2 batteries
• Detection of leaking gas traces
Range: 1.10-4 mbar l/s to 2.10-2 mbar l/s
• 128 programs
• IP 54 protection
The part is filled with hydrogen gas 5% in Nitrogen gas. For localization, the leaking gas is attracted in a suction probe to the sensor.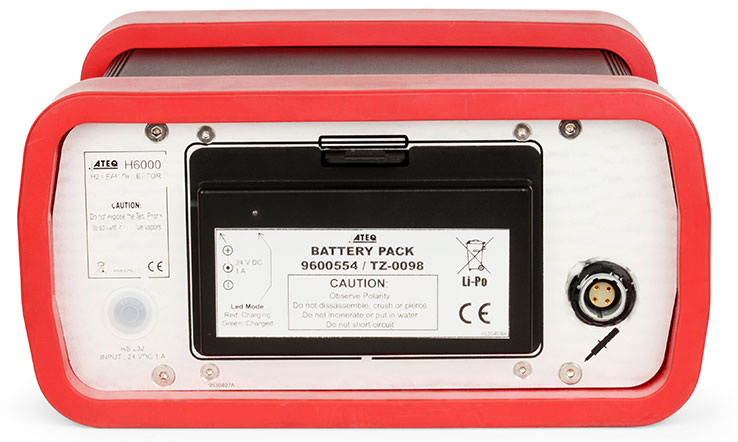 PHYSICAL

Weight : Approximately 8 Kg
Dimensions : (in mm) – N 577 x H 157 x D 381


TEMPERATURE

Operating : + 10°C at + 45°C
Storage : 0°C at + 60°C
INTERFACE


Naviguation Keys

4 lines LCD 14 characters

The CDH6000 is a gas H2N2 (5% hydrogen) supply allowing the H6000 calibration checking. It must be used with one or several calibrated leaks.
Detailed information about the H6000 including features, specifications, etc.
High precision method
With this test method a sniffer probe is used to monitor rising concentrations of the leaking tracer gas that is collected in a surrounding chamber.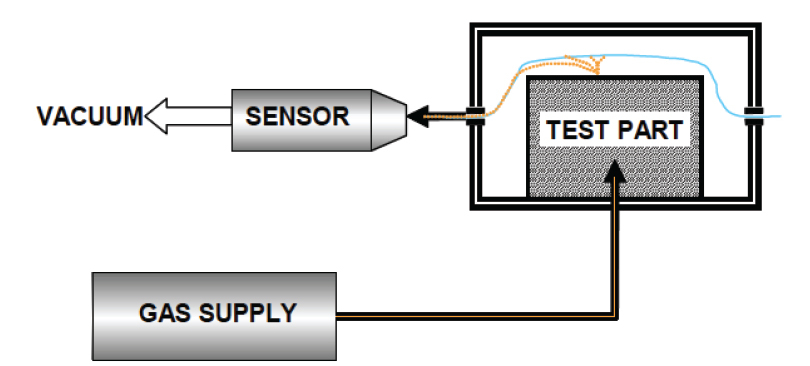 External probe method
The operator can search for the leak location with the test probe. The device detect and every gas leak with the probe and displays the gas concentration.